A First-Timer's Experience at the Old Course in St. Andrews, Scotland
Hello to St. Andrews
By Jason Kauflin
In October of 2019, I was fortunate enough to make my first trip to St. Andrews, Scotland. The trip was a mixture of business and pleasure. The genesis of my maiden voyage to Scotland was my relationship with Whistling Straits, Blackwolf Run and the rest of the Kohler properties. As Destination Kohler's highest-grossing tour operator in the world, it was only a matter of time before I was introduced to the sales team at the Old Course Hotel in St. Andrews, owned by Herb V. Kohler. I was invited over to learn everything I could about the hotel and the golf packages that are offered by their golf sales team. The long-term plan is for Wisconsin Golf Trips to promote those packages to its customer base as an outbound tour operator. As any smart husband with a golf-loving wife would do, I planned ahead and worked out my trip to coincide with the Kauflins' 25th wedding anniversary!

After flying into Edinburgh, my wife, Cindy, and I made it to St. Andrews to check in to the Old Course Hotel late on a Sunday afternoon. We did what any golf-loving tourist would do: We dropped our bags in the room and immediately and went down to see some of the most famous holes in golf in person. Now I knew that the Old Course was closed on Sundays and that the grounds were public property, but I was unprepared for the scene that was being played out in front of us. There were dozens of people walking their dogs up and down the fairways. I saw a family of children playing tag on the green on #17, the famous Road Hole. And I saw some buddies playing rugby running down the 18th fairway. Remarkable.

As anyone who has investigated the opportunity can tell you, getting a tee time on the Old Course is as much of a bucket-list item as actually playing the course itself. Most of the tee times are taken by local members in the morning and then by those groups lucky enough to receive advanced times through either the St. Andrews Trust application process or by working with an Authorized Provider (tour operator, hotel, etc). However, that system leaves a number of single spots (and even some "two-ball" spots) open to those looking to fill in the gaps. The St. Andrews Trust offers a 48-hour ballot process to begin completing the tee sheet for the day, but a certain percentage of spots each day are kept open to allow for walk-up play.

We were prepared to go after these walk-up times if the opportunity presented itself. One revelation was an online app which allows you to see all the tee sheet spots open for walk-ups the following morning. There were even a couple twosomes available on our target day. We knew if we put the effort in that there might be a good chance to play The Old Course together. The next revelation was those at the front of the line in the morning can choose which times they want throughout the day. We were able to leave our clubs in the rooms knowing we would most likely NOT be going out in one of the earliest times. Our alarm went off at 3:45 a.m. and we were soon walking along the famous road adjacent to the 18th fairway in the dark. Our hearts were racing as we approached the small building by the first tee box where the doors would open at 7:30 a.m. We turned the corner of the building to find only two brave souls who arrived before us, the first gentleman at 1:30 a.m.

I will admit that it was a LONG 3-1/2 hours. It was about 30 degrees and windy. There were a couple of benches to use and some small radiant space heaters that you could feel if you stood on the benches. But the whole situation could not have been more worthwhile and more memorable. By 6:30 a.m. there were about 30 die-hard golfers waiting to see what their fortunes might hold for that day. We were very proud to be numbers three and four in line, especially Cindy who was the only female in sight! There were golfers from maybe a dozen countries in line and we all bonded over our stories of how we ended up trying to get on The Old Course that morning. 7:30 a.m. finally came and we lined up inside at the counter to select our positions. Our plan worked perfectly. We got a 10:30am two-ball and had time to go back to the hotel, get cleaned up, eat breakfast and get a proper warm up in before heading to the first tee. One more revelation: did you know that by walking on like this to the Old Course that your greens fee is about half of what it is when you reserve a spot in advance?

Our round on The Old Course was one of those days that we will not soon forget. The weather was decent, the sun was out, the wind was down, our playing partners were good guys and we both played some decent golf. Getting to walk all of those famous fairways certainly ingrained a smile onto our faces that was hard to wipe off. Seeing how the middle portion of the course was routed was eye-opening and standing on that 17th tee box for the Road Hole was as exhilarating as I had hoped. With the balcony of our room at the Old Course Hotel just off to our right, I proudly striped a tight fade over the Old Course Hotel sign and found the fairway on the other side. I also hit the 18th green with a solid knock-down shot that drew applause from the seven or eight spectators watching from behind the green. A tip of the cap to the crowd and an amazing round of golf was complete!

One of the things I was most interested to see was how the Old Course Hotel compared to the other Kohler-owned properties that I work with on a regular basis, The American Club and The Inn on Woodlake. The hotel did not disappoint in any way. The service (as you would expect) was outstanding and the variety of restaurants was terrific. The most memorable meal of the day was certainly breakfast which is served on the 4th floor of the hotel overlooking the Old Course. I think it is safe to say it is one of the most amazing breakfast spots on the planet! My favorite part of the Old Course Hotel was the décor. Everywhere you looked there were large format golf photos celebrating the history of the Old Course, and there was a special hallway of golf memorabilia that would transfix any golf fan.

The rest of our time spent in the St. Andrews area only added to our fascination with Scotland. Downtown St. Andrews was simply charming with tremendous dining options and tons of local shops to explore. We also got to play another world-renowned course as we were able to get a round in at Kingsbarns Golf Club nearby. Imagine the intimate setting and feel of Erin Hills and combine it with the quality and coastal setting of Pebble Beach and that is what Kingsbarns feels like.

Many golf groups that travel to Scotland only spend part of their time in St. Andrews, as getting to other parts of England and Scotland are priority. My last revelation was how much the St. Andrews area can offer for a group who wants to just stay in one spot. Besides the Old Course, there are five other golf courses operated on property by the St Andrews Trust. Kohler owns and operates the nearby Dukes Golf Course. Besides Kingsbarns, you have Carnoustie and (soon to open) Dumbarnie Links creating a cluster of world-class options. And you have an amazing collection of local courses including Lundin Links, Leven Links and the courses of the Crail Golfing Society. Your group could easily get a shuttle from the Edinburgh Airport, hunker down at the Old Course Hotel for as many days as you can get away, and play all your golf in the St. Andrews and surrounding areas.

We finished off our Scotland adventure with a few days of Scottish Highlands hiking, castle touring and Outlander (one of our favorite TV shows) location hunting. Combined with the amazing experience we had at the Old Course Hotel, St. Andrews and the rest of Scotland was certainly one of the most memorable trips we have ever taken.


Revised: 02/26/2020 - Article Viewed 10,037 Times
About: Jason Kauflin
---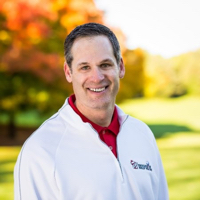 Jason Kauflin is the owner of Wisconsin Golf Trips. Jason's main goal is to be the world's utmost authority on inbound golf packages involving the top courses in his home state...Whistling Straits, Erin Hills, Sand Valley, etc. But after dealing with many bucket-list seeking groups over the years, the common question from customers became "Where else can you take us"" so offering quality outbound destinations is now a priority as well. Wisconsin Golf Trips has worked with groups interested in Oregon, Nevada, Minnesota, Michigan and is now actively promoting packages to Ireland and Scotland.
---
More Articles by Jason Kauflin